Let Andy Tile Installation take care of your tile installation in Chicago, IL

Contact us

We will install your dreamed tiles in the kitchen

Learn More

For the highest quality tile installation, we supply at Mapei
Andy Tile Installation

Chicago, IL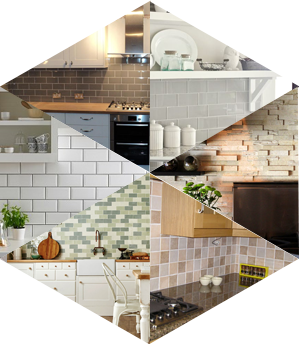 ANDY Tile Installation is one of Chicago's top tile companies, and has been for the past decade.
We have been in business since 2006, serving all of Chicago. Our tile contractors are highly experienced. The tilers of Andy are trusted and reliable, providing high quality tile installation each and every time. For tile Chicago property owners can count on lasting, ANDY Tile Installation Chicago should be your first stop.
We serve a wide variety of clients, both commercial and residential.
Our tile supplier is Mapei, allowing us to offer you a wide variety of tile materials. Some of our materials include: ceramic tile, porcelain tile, marble tile, granite tile, glass or stone mosaics, travertine tile, glass tile, or slate tile. Each of these is available in many sizes and colors. If you need tile, we've got it! Just give a call to Andy tilers Chicago to take the first step toward a new tile floor installation in your home or business today.

We supply at MAPEI.
ANDY Tile Contractor uses only the highest quality of materials. Their brand of choice is Mapei. Mapei provides the best adhesives and sealants on the market. The use of these materials means your tile installation will be flawless and long lasting: every time!
The reviews of Andy

Tile Installation Chicago

Customers who trust us
When you choose Andy for your tile installer, you can be sure there won't be any surprises. We have years of experience in tile profession and treat every project individually. The great quality of our tile installation has been appreciated by many customers so far. Read their reviews of our tilers or write your own here:
Andy Tile Contractors Chicago

offers a wide array of tile types
Ceramic tiles Chicago
Ceramic tiles are a popular and durable tile option available in a wide variety of colors. It stays cool in summer and warm in the winter keeping your home comfortable.
Porcelain tiles Chicago
Another popular tile option, porcelain is harder than ceramic and offers design flexibility. Porcelain tiles are made from fired clay. They're a great option for tile installation Chicago homeowners love.
Glass tiles
Chicago
The tile contractors Chicago trusts recommend glass tile for areas that are often wet or submerged in water. Why? Glass plays with light and color in ways other tile cannot.
Travertine tiles Chicago
Travertine is a type of tile made from limestone. Travertine is a popular outdoor tile option, but can also be used indoors. Contact tile contractors Chicago can trust for tile installation.
Slate tiles Chicago Chicago
Slate is a stone type created by silt and clay undergoing high temperatures and pressure. It is a very durable flooring option that is highly resistant to scratches and scrapes.
Marble & stone tiles
Get an elegant looking floor with marble tile. A natural material, stone makes a great flooring choice! It's more fragile than some options, but its beauty makes up for it.
Tile Installatoin

Services: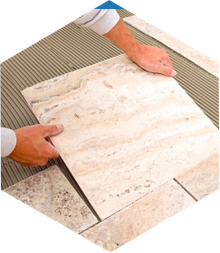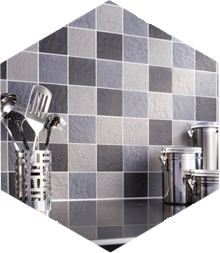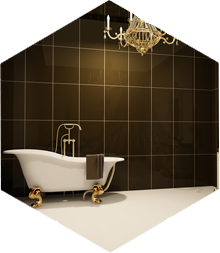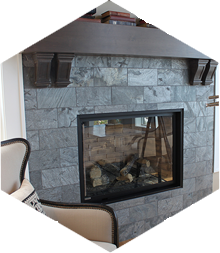 Serving Chicago with best floor tiles & backsplash tiles since 2006!
Tile Installation – ANDY Tile Contractors has years of experience with tile installation. From ceramic and porcelain tiles to mosaic tile installation and more, we've done it all. As the top tile installation experts in Chicago, we can complete any tile job you need completed.
Tiles in Kitchen – Between spilled cooking ingredients and splashing from pots and pans, kitchens can get messy easily. Tile flooring is an easy option for cleaning up those kitchen messes. Our tilers can also cover walls in your kitchen to create a stylish backsplash.
Tiles in Bathroom – By their very nature, bathrooms are susceptible to water exposure. With sinks, toilets, tubs, and showers in the room, water is everywhere! This makes tile an excellent flooring option. Tiles can be used for bathroom floors and shower walls alike.
Tiled Fireplaces – With Chicago winters, your family is likely to spend a lot of time around the fireplace. Though fireplaces can look a little dull or boring, adding tile to your fireplace is an easy way to add some color and pizazz.
Why Choose Andy

Tile Installers
We know the art of tile installation
Do you need to hire tile contractors? We know that finding the right tile installation services can be overwhelming. That is why we are here. Andy is the best tile installation Chicago has, and we are proud of that fact.
Years of experience in tile installation
Our tile installers are highly experienced. Each member of our staff has years of training and experience, making them a perfect fit for our team. We offer extremely high quality installation at a very fair and competitive rate. We have the know how to install tiles wherever you may need them.
Tile installation wherever you want!
Bathroom floors, showers, kitchen backsplashes, fireplaces, and more are on our list of already performed jobs. Additionally, our range of tiles is unmatched. We offer a wide variety of colors, materials, and styles, so no matter what type of tile you need, we will be able to provide it. Our tile materials can meet your needs for location, aesthetics, and durability.
Friendly customer service
If you have any questions, give us a call. We are happy to give you an estimate or advice on how to proceed with your tile needs. We know that tile is not your expertise, that is why we are here. We look forward to working with you.
The Process of

Tile Installation
1
First Visit
Price Estimate
ANDY Tile Contractors will come visit your home to discuss your tile flooring wants and needs. Once we have determined the basics of your vision, we will provide you with an estimate of the approximate cost of the project, including materials, time, and labor.
Starting Project
2
Create a Design
Our tilers will measure the room in question and create a design scheme after discussing your color or style preference. We offer a wide variety of different designs: kitchen backsplash tiles, fireplace tiles, shower tiles, kitchen tiles, and bathroom tiles to name a few.
3
Client Feedback
Client Approval
Before we begin any work on your home, we get your approval! You will take a look at our plan for your tile floor and suggest any changes you may desire. This may be a change in tile size, pattern, material, or color, to name a few.
Starting Installation
4
Begin Tile Installation
An approved design means work can begin! Everything has been measured and planned ahead of time, so all that remains is the tile installation! ANDY Tile Contractors will arrive at your home to begin installing your tile of choice. Our years of experience mean we install your tile quickly and efficiently.
5
Project Finished
Enjoy your New Floor!
Once our tilers has removed our equipment from your home, we will be sure to clean up after ourselves. Your floor will be sparkling clean when we leave. All that is left to do at this point it to enjoy your home's brand new tile flooring.
Expert tile contractors Chicago on every installation job
Our tile contractors are focused on top high end quality tile installation in Chicago
Do you need a new tile floor? Perhaps you have found a lot of hardwood flooring contractors but are struggling to find a tile contractor you love? Andy Tile has been serving Chicagoland with quality tile since 2006. We are well known for our bathroom, kitchen, and fireplace tile installations. Each of our contractors is highly experienced in the industry, offering you the best quality services at highly affordable rates. For our installations, we love to use Mapei products, which is one of the top manufacturers in the business.
When It Comes To Tile Installation in Chicago Our Tile Contractors Offer Unparalleled Customer Service
At Andy Tile we provide a wide array of tile types for our clients to choose from. Some of these materials include: ceramic tile, porcelain tile, marble tile, granite tile, glass tile, or state tile. The wide variety of materials, colors, styles, and sizes allows us to help you fully customize your home. Our tile installation experience is extensive. When you work with us, our experts can expertly install new floors, shower wall tiles, backsplash tiles, and more. Our services are neat, precise, and timely, not to mention affordable.
Tile Contractors Experienced in Any Kind of Tile Installation Chicago
We define the standards in tile installation in Chicago
When you think of tile, what is the first thought to come to your head? For most, it is flooring. At Andy Tile, we are extremely experienced at installation tile flooring in homes. Some popular rooms for tile floors include bathrooms and kitchens. However, tiles are not limited to the floor! They can also be used on the walls for showers, kitchen backsplashes, or fireplaces. In these instances, the tiles help protect the wall from moisture or flame. A tile wall can add a unique touch, and the options are endless, from plain colored tiles to adding a splash of color.
Look no further for tile installtion in Chicago
We provide endless options of tile installation in Chicago! Our tile contractors ensure you services that meet all of your expectations.
Signs of a Good Tile Installation – Andy Tile Installation & Tile Contractors Chicago
Knowing the criteria to have a good tile installation in Chicago is important, even though you're not an interior designer yourself. Having said this, this will make sure that your home meets the aesthetic that you have in mind, and your time as well as money are not wasted on poor craftsmanship. The following are some things that you should notice after a top-notch tile floor installation.
All tiles, underlayments, and subfloor units should be equally polished and buffed before installing the grout. Our tile installers will make sure that the tiles are centered and symmetrical according to the unique layout and features of your home. Transitions between different materials, such as tile against drywall, tile against hardwood, or glass and granite, should be clean and seamless. Our Chicago tile installers will ensure that the grout is laid evenly, matches the color samples you agreed on, and all wall boards were properly recessed. Areas that have high traffic are blocked off temporarily as the grout settles. This way the tilers ensure that the tile surfaces are flushed. If half-tiles have to be used around the perimeter of the room or in corners, the flooring team ensures that the pattern is consistent throughout the room.
If you choose our tile floor installation company in Chicago, you can be sure that you will get the best service possible for your home. Our tilers will provide the highest quality of work at an affordable price. Contact us today!
Info

:
Email:
Address:
322 South Green Street
Chicago, Illinois 60607